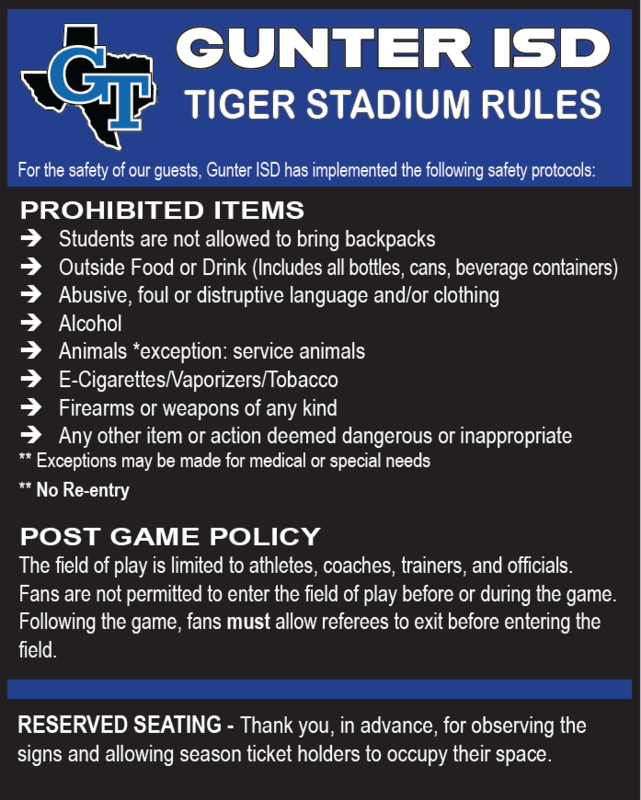 Friday night is almost upon us, and we are ready for some Friday Night Lights! Before that time comes, please take a moment to familiarize yourself with the 2022-23 Tiger Stadium Rules/Policies.
PROHIBITED ITEMS
* Students are not allowed to bring backpacks
* Outside Food or Drink (Includes all bottles, cans, beverage containers)
* Abusive, foul or distruptive language and/or clothing
* Alcohol
* Animals *exception: service animals
* E-Cigarettes/Vaporizers/Tobacco
* Firearms or weapons of any kind
* Any other item or action deemed dangerous or inappropriate
** Exceptions may be made for medical or special needs
** No Re-entry
POST GAME POLICY
The field of play is limited to athletes, coaches, trainers, and officials. Fans are not permitted to enter the field of play before or during the game. Following the game, fans must allow referees to exit before entering the field.
Also, for seating, please make a note of the following:
- the freestanding bleachers are reserved for the Tiger Band
- there will be a roped off section in the bleachers for our student section
- reserved seating will be clearly marked
- all other bleacher areas are open seating
Enjoy the games this season!